FEATURES
« Robust all-steel construction
« Super-quick adjustment to most I-Beams (see measurements below)
« Durable baked enamel paint protection
« Stainless steel ID tag
« Individual test certificate & serial number
« Meet or exceed the following standards - CE, AS1418.2, ANSI B30.21, ANSI B30.16
"for use with manual or powered hoists"
If you're interested in purchasing a high quality beam clamp that will help to keep your beam in position, then you've come to the right place. These beam clamps are made entirely from steel, meaning that they can carry a huge load. In fact, depending on the model you purchase, the clamp could handle a load up to 20,000 pounds. These clamps range in load capacity from about 2000 pounds to the aforementioned 20,000 pound mark, so there's a fair amount of variety to choose from.
Designed to be easily customizable to any I-Beam, with just a quick adjustment of the gripping arms of the clamp. Additionally, they are painted in such a way that it won't chip or rust, meaning that the clamp will work and function how you want it to indefinitely.
What's particularly interesting about these beam clamps is that they can handle such a large load yet weigh as little as they do. The clamps themselves range from a measly nine pounds to just 35 pounds for our heavy grade load-bearing models. You can rest assured that when you purchase a beam clamp with us, you'll be getting the most sound and efficient piece of clamp engineering on the market.

DIMENSIONS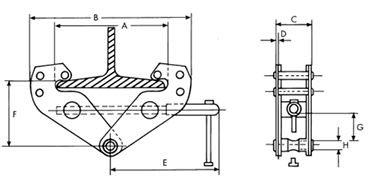 SPECIFICATIONS (1, 2, 3, 5 and 10 tons)

Dimensional
Information (in.)

A (in)

18.50 max