SINGLE PART BODY
MECHANICALLY SPLICED
WIRE ROPE SLINGS.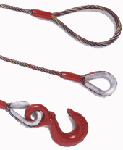 Eyes are typically formed using a flemish eye splice. The ends are secured by pressing a metal sleeve over the ends of the strands of the splice. Pull follows a direct line along the center of the rope and eye. Single part body mechanical splice slings have a higher rated capacity than hand-spliced slings.

FLEMISH EYE SPLICE

ln the standard flemish eye mechanical spllce,
wire rope is seperated into two parts: three adjacent strands to one part and three adjacent strands along with the core to the other part. The two parts are they re-laid back in opposite directions to form an eye, and ends are secured with a pressed metal sleeve.

SWAGING PROVIDES A
GOOD GRIP.

This photo shows a cutaway of a metal sleeve thats been swaged into a splice. Notice how metal flows into the valleys between strands to positively prevent ends from unlaying when the sling is used within its rated capacity.
CALL 866-392-2829 TO ORDER!
PRICES BELOW
Last Updated: Monday, July 21, 2014